Youtube is a largest video sharing site on web, with registering millions of videos and views daily. YouTube, the leading video-sharing platform, hosts a multitude of videos, and every day, millions are uploaded, capturing everything from breathtaking nature documentaries to the latest viral cat video. Given this vast sea of content, finding the most viewed videos can seem like finding a needle in a haystack. But don't worry, I've got you covered. This guide will provide step-by-step instructions on how to identify the most viewed or watched videos on YouTube. So, let's dive in!
Just before we start, remember that the number of stream views isn't the only metric that signifies a video's success. Aspects like audience engagement and the number of likes and comments also play crucial roles. But for the purposes of this guide, we'll mainly focus on video views.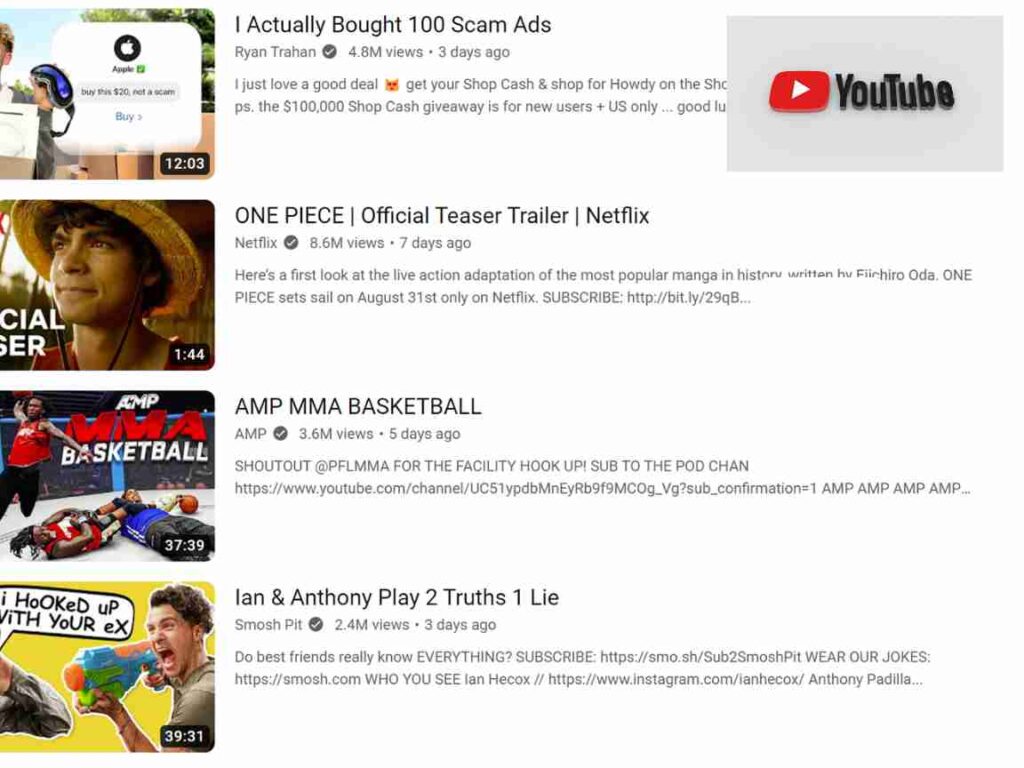 YouTube's Built-in Tools
To start, let's familiarize ourselves with YouTube's built-in tools for finding popular videos. One of these tools is the Trending section, which highlights videos that are currently popular. While it's not a direct measure of the 'most viewed' videos, the videos featured here often have high view counts.
To access the Trending section:
Open YouTube and sign in to your account.
On the left-hand side of the homepage, click on 'Trending.'
The videos you see are not just based on view count but also on factors like the video's novelty and your geographical location. This makes the Trending section a bit of a double-edged sword. While it provides quick access to currently popular videos, its recommendations may not always align with the absolute 'most viewed' content.
YouTube's search filters also offer a more targeted way to find popular videos. After entering a search term, you can filter the results by view count. This feature is excellent if you're interested in a specific category, but it's not as helpful for finding the overall most viewed videos.
Find Popular Videos for Youtube Channel
Another effective strategy to uncover popular content is by exploring channels with a proven track record of popularity. You can do this by visiting a well-known channel and selecting the 'Popular' tab. This action sorts the channel's videos based on view count, allowing you to see their most viewed content. For instance, when browsing the '@pinkfog' channel, click on the 'Popular' tab to discover their top-viewed videos. It's a simple yet insightful method to discern popular trends and high-view content.
Top 10 Most Viewed Videos on Youtube
Here are top 10 all-time most viewed videos on youtube.
| Video name | Account Name | Views in billions | Posted On |
| --- | --- | --- | --- |
| Baby Shark Dance | Pinkfong Baby Shark – Kids' Songs & Stories | 12.85 | June 2016 |
| Despacito | Luis Fonsi | 8.16 | January 2017 |
| Johny Johny Yes Papa | LooLoo Kids | 6.70 | October 2016 |
| Bath Song | Cocomelon – Nursery Rhymes | 6.20 | May 2018 |
| Shape of You | Ed Sheeran | 6.00 | January 2017 |
| See You Again | Wiz Khalifa | 5.89 | April 2015 |
| Phonics Song with Two Words | ChuChu TV | 5.30 | March 2014 |
| Wheels on the Bus | Cocomelon – Nursery Rhymes | 5.24 | May 2018 |
| Uptown Funk | Mark Ronson | 4.92 | November 2014 |
| Learning Colors – Colorful Eggs on a Farm | Miroshka TV | 4.89 | February 2018 |
Most Viewed Categories on YouTube
To understand the landscape of YouTube's most viewed videos, it's critical to delve into the popular categories or genres that garner the lion's share of views. Analyzing these categories can help us comprehend what types of content resonate with viewers and what trends are currently driving video consumption.
Music Videos: Undeniably, music videos represent a significant chunk of the most viewed content on YouTube. The universal appeal of music, coupled with the star power of renowned artists, catapults many music videos to the top of the view charts. Unforgettable hits like "Despacito" by Luis Fonsi or "Baby Shark Dance" by Pinkfong have garnered billions of views, underscoring the unrivaled popularity of this genre.
Entertainment and Comedy: This category, brimming with sketch comedy, pranks, challenges, and reactions, is a significant view magnet. Memorable moments, laughter, and relatability make these videos a fan favorite. Remember the viral success of "Charlie bit my finger" or "Youtuber's React" series by the Fine Brothers?
Gaming: The meteoric rise of gaming content, especially 'Let's Play' videos and live streams, is hard to ignore. The gaming community on YouTube is incredibly engaged, and high-profile gamers like PewDiePie and Markiplier drive millions of views.
How-to's and Tutorials: The desire for knowledge and self-improvement propels this category into the realm of high view counts. Everything from makeup tutorials to home DIY tips falls under this category.
News and Politics: Videos that delve into current events, political commentary, or news analysis also attract a high number of views, thanks to the constant demand for updates on global events.
It's important to note that while these categories host some of the most viewed videos, they also encompass a vast amount of content. The competition within these genres is fierce, and standing out requires unique content, strategic promotion, and audience engagement.
---
Wrapping Up
If you're a content creator aiming for high views, take inspiration from the success of others, but remember to craft content that aligns with your passion and resonates with your audience. After all, authenticity often speaks louder than views.
Thank you for joining me on this journey to uncover the most viewed videos on YouTube. I hope this guide has proven insightful and equipped you with valuable strategies. I'd love to hear about the interesting videos you've discovered or any thoughts you may have. So, why not share them in the comments below?
Remember, every view counts, but it's the joy of discovery, learning, and connection that truly encapsulates the magic of YouTube. Here's to your next viewing adventure!